The United States presidential election of 2020 was the 59th quadrennial American presidential election, held on Tuesday, November 3, 2020. Republican candidate and incumbent President Robert H. Dickenson, who had presided over a period of economic growth and prosperity, the passage of major immigration, trade, and tax initiatives, and had a series of foreign policy successes in the Middle East, China, and Korea, won 61.1% of the popular vote, the highest percentage won by a candidate since Lyndon B. Johnson's landslide reelection over Barry M. Goldwater in 1964. It was the most lopsided American presidential election in terms of both popular and electoral votes. No candidate has since equaled or surpassed Dickenson's percentage of the popular vote, though Abraham Lincoln in 1864, Franklin D. Roosevelt in 1936, Richard Nixon in 1972, and Ronald Reagan in 1980 and 1984 won by a similar electoral vote margin.
The Democratic candidate, Governor Andrew M. Cuomo of New York, suffered from a lack of support within his own party and his deeply unpopular political positions. Dickenson's campaign advocated for the continuation of his stimulus and protectionist programs (the Contract for America) and succeeded in painting Cuomo as a dangerous left-wing extremist. Dickenson easily won reelection to the Presidency, carrying all 50 states, becoming the first candidate in history ever to do so. Cuomo's only electoral votes came from the District of Columbia, which has never been won by a Republican presidential candidate.
Cuomo's unsuccessful bid spelled the end of the New Democrat movement and spurred a long-term realignment within the Democratic Party that eventually culminated in the election of Cory Booker in 2028. His campaign continued to receive the most support in concentrated metropolitan areas and in parts of the Northeast. Conversely, Dickenson became the first Republican since Richard M. Nixon in 1972 to win Minnesota, the first since Ronald Reagan in 1984 to win Massachusetts and Rhode Island, and the first since G.H.W. Bush in 1988 to win Connecticut, Vermont, and New Jersey.
General election
[
]
Results
[
]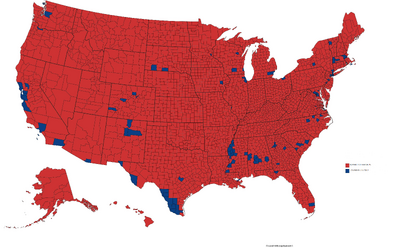 The election was held on November 3, 2020. Dickenson was reelected in a popular and electoral vote landslide, winning all 50 states, including Cuomo's home state of New York. He won a record 535 electoral votes (out of 538 possible) and captured over 61% of the popular vote. Only the District of Columbia voted for Governor Cuomo, giving him just three electoral votes, the lowest total ever won by an American presidential candidate. It was lower then Walter Mondale (1984), Alf Landon (1936), or President W.H. Taft (1912); Landon and Taft had won just eight electoral votes in their own presidential bids. Dickenson's percentage of the popular vote was the highest won since Lyndon B. Johnson in 1964, and was tied with Johnson's as the highest percentage won in the current two-party system.
Cuomo won just 113 counties, in addition to the District of Columbia, the lowest number ever won by an American presidential candidate in history. He performed even worse than George McGovern in 1972, who had won just 180 counties against Richard Nixon. Cuomo failed to carry a single county in twenty-one states; he carried only one county in a further eight; and only two counties in a further four. Cuomo lost 45 states by no less than five percentage points, and 41 states by no less than ten percentage points-the exceptions being Vermont, Massachusetts, Maryland, Hawaii, California, Illinois, New York, New Jersey, and Washington.
Dickenson had the best performance among minorities of any Republican since Dwight D. Eisenhower in the 1950s. He won 27% of African-Americans, 53% of Hispanics, and 61% of Asians/Other voters. This was the first time since 1996 that a absolute majority of Asians voted Republican, and the first time in American history that a majority of Hispanics did so. Moreover, Dickenson won 70% among white voters, the highest percentage ever won by a presidential candidate (beating out the records of Nixon in 1972 and Reagan in 1984); he won 73% of non college-educated whites and 61% of college-educated whites.
United States presidential election, 2016
Party
Candidate
Votes
Percentage
Electoral votes
Republican
Robert Hendricks Dickenson
84,492,141
61.05%
535
Democratic
Andrew Mark Cuomo
53,241,812
38.47%
3
Close States
[
]
Margin of victory less than 5% (83 electoral votes):
Hawaii, 2.30%
California, 2.75%
Massachusetts, 3.35%
Maryland, 4.25%
Vermont, 4.94%
Margin of victory less than 10% (75 electoral votes):
New York, 5.51%
New Jersey, 6.19%
Illinois, 7.72%
Washington, 8.97%
Notes
[
]
Cuomo failed to carry a single county in the following states: Idaho, Montana, Nevada, Wyoming, Utah, North Dakota, Nebraska, Kansas, Oklahoma, Arkansas, Tennessee, Kentucky, West Virginia, Delaware, Rhode Island, Connecticut, New Hampshire, Maine, Alaska, and Hawaii.
He carried only a single county in Oregon, Arizona, Iowa, Minnesota, Missouri, Illinois, Ohio, and Vermont.
He carried only two counties in Washington, South Dakota, Florida, and Michigan.
He carried only three counties in Wisconsin and New Mexico.
Dickenson won the white vote in all 50 states; Cuomo won it only in the District of Columbia.
Dickenson won the highest percentage of the Electoral College (99.44%) of any candidate in American history, surpassing Franklin Roosevelt's total (98.48%) from 1936.