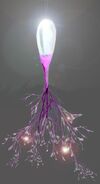 Possible titles
two word combinations
combinations of a neologism and a common science fiction term:
Cybiotic invasion - (assume that the aliens have a name for the process by which a nanorobotic artificial life form can integrate with a biological entity and then assume that a reasonable translation of that term into English is something like "cybiotic", meaning a hybrid of cybernetic and biological life forms)
Terran cybiosis
The Eggplant (this title has the effect of not revealing the main secret of the story (alien nanobots) before it starts)
Longer titles
The Terran Cybiosis
Rise of the Cybionts
Invasion of the Cybionts
Other titles
Wise Nanobots in ANTler Network Systems
Wise Nodes in ANTler Network Systems
We Need A New Turf
We Need A New Title (original name)
You've got nanomail
Chloe is a Neinoubot
Nanobots ate e-mail users brain
The nanobot ate my homework
Nanobots ate my neighbors' brains
I'm out of my nanomind
The title is too small to see
"." <-- Title: click to enlarge
" " <- you need a microscope to see the title
How I lost my nanomind
Paranoid nanomind
Worship the nanagods
This is not a title
This is a title
Untitled
WNNNT: We Need No New Title
Is this a title?
Do we have a title yet?
Unfinished Title
No Title
XTitle
You can't change this title
200.000 billion neurons could not think a new title
200.000 million titles of a story
Can you type a title?
The novel without a title
Guess the title
Read the damn story and don't ask for for the title
The title that anyone can edit
Nobody Knows the Title
Do you dare putting a title?
Did you expect any title?
This title does not exist. Click edit to create it!
What's in a title?
We ain't got no title
Click Edit to spoil this title
Click move to create a title
The story of a story without a title
Do you like this title?
This story has a title
Who cares about titles?
An earthquake in Bogota destroyed the title
Nanobots ate my title
The title was bombed
The title is not material
The story with a hundred titles. Click Template:VirileMail/Titles to see them all and add your own!
We hate titles
This story is so good that a title would spoil it
Got a new title?
The authors don't know what a title is
Mind control
Blind minds
Joe: "Where did I type the title?"
I have no title and I must scream it. H. Ellison
Title contest: Type your own title!
Check mail! No, check mait!
Check mate with Chloe, if you can
JOBot rules!
JOBot is smarter than humans
Internet Relay Contact
Email of the third kind
First Contact: eMail
VirileMail
Joe's small problem
WNANT 1138
See also: How the story was created
Community content is available under
CC-BY-SA
unless otherwise noted.