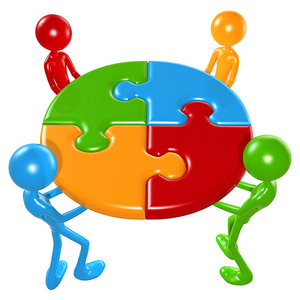 Welcome to the Community Portal. This page is devoted to supporting constructive interactions between participants at this wiki.
Social networking
Edit
The wiki interface has several tools that facilitate interactions between wiki participants:
be sure to create a user account and describe your interests on your user page
set your user preferences to enable e-mail from other users
make use of the Forum
Use the collaborative fiction portal
Other networking tools
Edit
List other ways of staying in touch below. A good way to build collaborations is to make use of Internet Relay Chat (IRC). The fiction writing chat channel:
Do you tweet about your fiction writing? List your Twitter RSS feed here:
Loading RSS data...
Do you blog about fiction writing? List your blog feed here:
Loading RSS data...
Housekeeping
Edit
On the various special pages there is a boatload of stuff that needs housekeeping, most of which looks like anyone could do it (not just admins), like fixing BrokenRedirects, UncategorizedPages, UncategorizedCategories (as appropriate).
Note that non-admins can help with all housekeeping tasks, by marking pages for deletion or telling an admin about something. Going through all the special pages and figuring out which ones are inactive and empty or innappropriate, and which ones are just fragments of appropriate works, will take lots of time, so anyone could do that and then mark the appropriate-to-delete ones with {{Delete|Housekeeping}}