Cellular Civilization is a collaboratively written science fiction novel.
The current version is about 81,000 words and 145 pages. Part I is complete, but collaborating authors are welcome to make improvements and contribute to Part II.
Click here to read the story summary.
Technological Advancement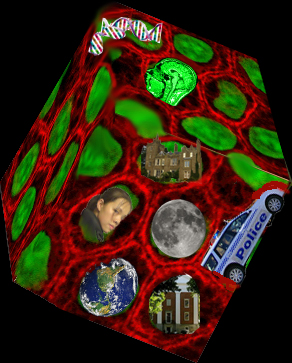 Where do new ideas and new technologies come from?
Stefiz al-Arabid, a computer science student, receives a strange phone call from a cyber-stalker. Stefiz tells him to leave her alone, but two days later he finds her on campus and invites her to join a secret technology development project, turning her life upside-down. Within days her year-long romantic relationship with Charlie Parker is on the rocks and then Charlie dies in a horrible car crash. Or is he dead? Can Stefi be sure of anything or is she just a pawn, helplessly playing a role in an alien invasion of Earth?
Note: If you want to help create this story, see Cellular Civilization/Meta. thumb|300px|right|Video teaser for Cellular Civilization.
Start reading the story at the chapter labeled "CC" ("CC" = CrystalCarbon). Here is a map of the chapters:
              _> Mary –––––––––––––––––––––> Lincoln
             /                                \
            /                                  \__> Amelia
      PAlbert ––––––––––––––––––––> Andresklo
      /  \                          \---->Ferace      ------> Yasas
     /    \      __----------> Cathy                /
    /      \    /                 \                /
   /        \  /                   \__________>Tess
CC –––> Charlie ––-----–> Stefi
   \                    
    \                    ----------------> Lani
     \                  /                     \
      \ _______---> Jenny –––> Thomas          \______> Dexamene

Sunday ----> time flow --> one week in the Fall --> ---------> Saturday
Useful pages for the reader: List of characters and the Glossary. Readers can discuss the story at Talk:Cellular Civilization.

If you want to help write the story, see the meta page (warning: spoilers!).
Community content is available under
CC-BY-SA
unless otherwise noted.